DJ Construct presents: "Now That's What I Call Drum Step Vol. 1", featuring DJ Construct's Top 50 favorite Drum Step tunes, recorded live on January Friday The 13th 2012.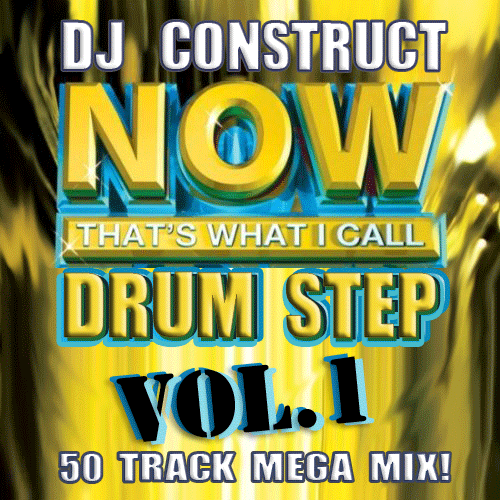 This is a 50 track Drum Step music mix that is strictly dedicated to the Drum Step Drum & Bass electronic "bass music" format.  For those of you that may not know, Drum Step is an electronic "bass music" style that is in between the styles of Drum & Bass & Dub Step, with the tempo still being formulated around Drum and Bass (160 – 180 Bpm).  So since it is a new year being 2012 and since it was Friday the 13th I decided to make another mix and so I put together 50 of my favorite Drum Step tunes to give my version of "NOW THAT'S WHAT I CALL DRUM STEP VOL. 1". This mix features all of the different styles that Drum Step can cater to without diverting from the main DnB tempo.  This mix is 1 hour and 30 minutes packed with classics, exclusives and top hits and is guaranteed to get you dancing or to at least get a head nod out of you. The mix was recorded on 1/13/12 in the Bass Rehab studios using Pioneer CDJ's and an Allen & Heath DB:4 mixer.  If you like what you hear then please drop me a comment or go visit my facebook fanpage and like DJ Construct.
Drum Step Vol. 1 Tracklisting
Maverick Sabre – No One (TC Remix)
Mutated Forms – Ready When You Are V.I.P.
Crissy Criss – Freak (Drum Step Remix)
Jaydan – King Of Miami V.I.P.
DJ Hazard – Machete V.I.P.
Dub Foundation – Dark Water Remix
Original Sin & Taxman – Penamana
Crystal Clear & Zen – Gang Related V.I.P.
Cabbie & Majistrate – NY Diesel
Heist – Forgive Me Remix
Crystal Clear – Heavy Metal (Moshpit Remix)
Zen – The F Word Remix
Pendulum – Witchcraft (Rob Swire's Drum Step Mix)
Sensai – Trapped
Majistrate & Sly – Fallen Soldier Feat. Alicia King
Dr. Dub – M Steps
Taxman – Look What You've Done
Double Penetration – Revenge
Sub Focus – Hold On Remix Feat. Amber Coffman
Steppa & Kitcha – Come Down V.I.P.
Cutline – Cascade Remix
Crissy Criss – More Than Ever
Original Sin – Step On
D* Minds – T-10 (Gangsta Step Remix)
DJ Vapour – Dub Bass
TC – New Style
Nu:Tone – Set Me Free
Skeptical & Dub Phizix – Marka Feat. Strategy
Millions Like Us – Illuminate
D* Minds – Flash
Tantrum Desire – Reach (L-Plus Mix)
Metrik – T-2000
Steppa & Kitcha – Jaws
Heist – I Need Killers
Rawtee – Throwing Stars
Prestige – Let It Begin
Wilkinson – Tonight (After Midnight Mix)
TC – F Sid 2
Friction Vs. Camo & Krooked – Sweet Shop Remix
Original Sin – I Love It
Camo & Krooked – Run Riot
Sensai – Destruction
Taxman – Robostep
D* Minds – Ill
Prestige – Unscrew V.I.P.
Crissy Criss – Kick Snare V.I.P.
Taxman – Tap Ho Remix
DJ Hazard – Wicked So
TC – Rock Star (Drum Step V.I.P.)
Netsky – Everyday V.I.P.
DJ Construct Links