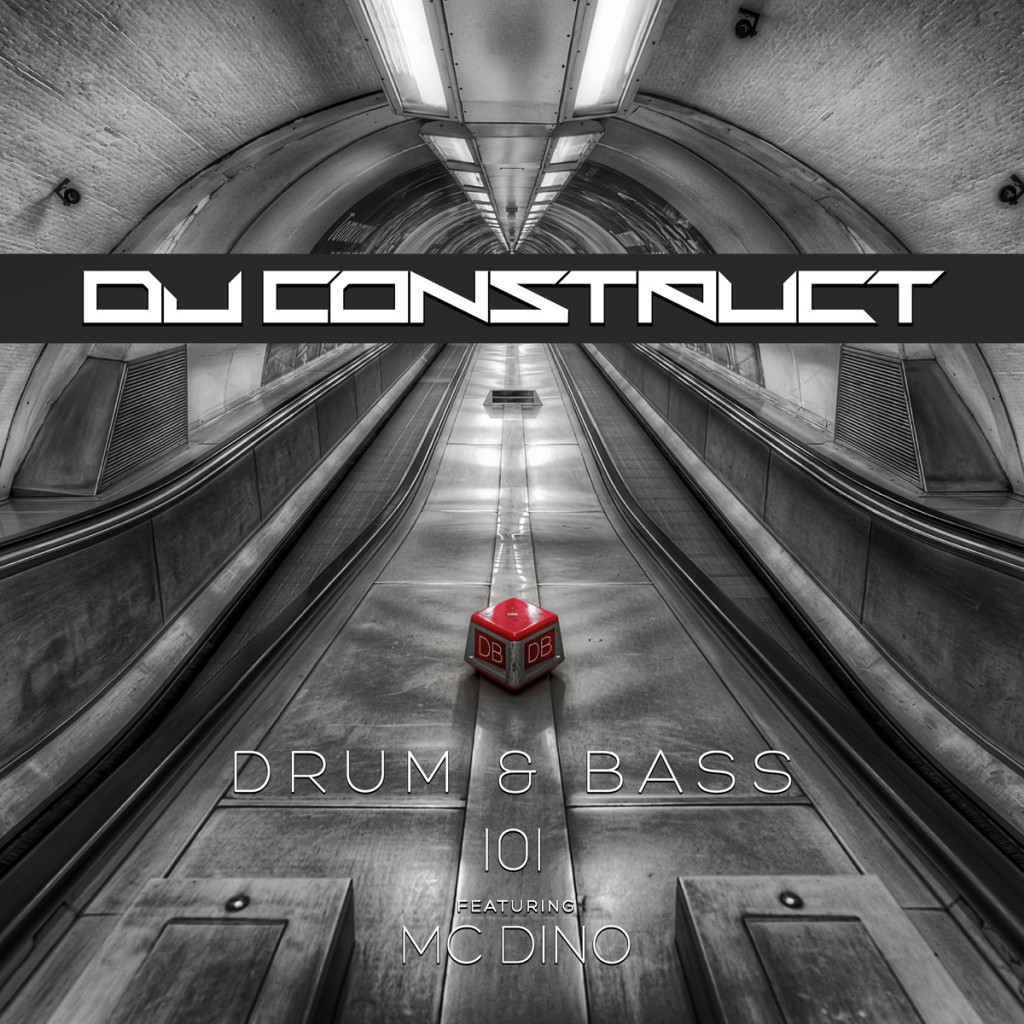 DJ Construct Presents: "Drum & Bass 101" Feat. MC Dino
The mix is compiled on 3 CDJ's and is mixed by DJ Construct w/ master of ceremony support By MC Dino, using 101 of DJ Construct's favorite Drum & Bass tracks.
This is a 101 Track Drum & Bass Mega Mix. I call this mix "Drum & Bass 101" not only because of the 101 tracks used to create it but mainly because I wanted this selection to show an educational tutorial style type of mixing (hence the 101) where if you are not into Drum & Bass then this mix should show the listener all of the basics, to draw you in, to show the history, past, present, future, and to help you become a fan of the music, or on the other side of it, if you were already a fan of Drum & Bass then this mix should hopefully be a great representation to showcase just what DnB is and how fun it can be with all the greatness that encompasses it. There is about every style of Drum & Bass present here, from classics, hard, neuro, techy, jump-up, drum-step, trap, liquid, ragga, jungle, jazzy, rollers, VIP's, dubplates, remixes etc. I also wanted an incredible MC to help me tell this story, which is why I had chosen MC Dino to accompany this mix, to help educate the audience and to tell this story, so that the listeners can be guided through the tracks one by one with informative, rhythmic, pulsating, & spot on rhymes.
This mix was recorded at the end of May 2013. The audio portion of the mix was recorded in the Construct studios and was recorded using 101 single track CD's, with 3 Pioneer CDJ's, an Allan & Heath Xone:DB4 mixer, while maintaining a mixed in key format, then the mixer was ran into an Apogee Ensemble when DJing, then using Audacity to record it. Once the audio portion of the mix was recorded then MC Dino and I went to the Gibson studios in Beverly Hills accompanied by Alien Tom with some proper Mic gear. Once at Gibson we added the vocals to the mix.
Just so the listener knows and understands there was no special technologies of any kind used, no Serato, no track editing, no auto cue, no tempo adjustment editing, no throwing tracks into programs to edit or to adjust or alter it's tempo or it's sound (for today we live in an age with vast technologies that can make things too easy for DJ's) so I wanted things to be raw. This mix took me almost 3 months to prepare, to get the right track selection together, to take you on an incredible journey, and to make sure the key structure and drops were all perfect. I wanted the mix to tell the listener a story, to educate, and for things to mesh universally, and to take you through every spectrum of Drum & Bass possible so that the listener can then become knowledgeable about what this music is, and the incredible places it can take you, for sometimes there is just so much stuff out there that people may not get to experience the real taste of Drum & Bass. To be honest it took me 3 times to execute it just right, and it was a bit tuff, but then the third time was a charm, and just like every previous mix, it was recorded in my studio amongst friends, so that way with an audience I could step it up being on the spot. I wanted this mix to be my best one to date and to raise the bar and to show my current skill levels. I hope that you enjoy this mix as much as I did making it, for it was indeed a blast! =)
This Mix is in MP3 format and has a total running time of: 2 hours, 25 minutes, & 17 seconds.
Drum & Bass 101 Tracklisting
Daft Punk Feat. Pharrell Williams – Up All Night [TC Bootleg Remix] (Dubplate)
Brockie & Ed Solo – Sleeping Giant [Annix & Profile Remix] (UND018)
{TEASER} Teddy Killerz – Shake (BT032)
DJ Hazard – Air Guitar (PLAYAZ032D)
Roughcut – Finally The Erb (DUBWIZE008)
{TEASER} Dialogue – Do It Again V.I.P. (Free Tune)
Julio Bashmore – Au Seve [TC Bootleg Remix] (Dubplate)
Jayline & Ian Dee – The Pelham Skank (SBA007LP)
{TEASER} Ed Rush & Optical – Alien Girl (PRO014)
Roni Size & DJ Die – Music Box [Sigma Remix] (FCY094)
{TEASER} Shy Fx & T Power – Feelings (SBOY001)
Wilkinson – Need To Know Feat. Iman [Original Mix] (RAMM126D)
{TEASER} NW2 – Sharade [Cabbie V.I.P. Mix] (Dubplate)
Original Sin – Radical (Dubplate)
{TEASER} Supreme Being – Fungus (Dubplate)
Total Science – Nosher [Baron – I Know A Little Spot Mix] (CIALTD004)
{TEASER} Rene La Vice – Regrets (RAMMLP16)
Modified Motion – Don't Go [Taxman Remix] (INNODA001)
{TEASER} Sub Zero & Jaydan – Brain Freeze V.I.P. (Dubplate)
Supreme Being – K9 (Dubplate)
Cabin Fever UK – Rock Skool (Free Tune)
TC & Jakes – Haters (DSR018P)
Taxman – Unreal (FRONT096)
{TEASER} Original Sin – That's Why (Dubplate)
Duke Dumont – Need U (100%) Feat. AME [TC Bootleg Club Mix] (Dubplate)
Prestige – Kill A Man (Dubplate)
{TEASER} Sub Zero – Your Flex [Majistrate V.I.P. #2] (Dubplate)
DJ Hazard – Busted (PLAYAZ01)
Calyx & Teebee – Skank (RAMMLP15D)
TC – Rock Porn Star V.I.P. (Dubplate)
{TEASER} Bad Company UK – Planet Dust (BCRUKEPCD001)
Konichi – What Can We Do (Dubplate)
DJ Devize – X-Groove (RADIUSLP001)
{TEASER} Cabbie – Get Hardcore (Dubplate)
DJ Hazard – Wait For It (Dubplate)
Ram Trilogy – Evolution [Marcus Intalex & S.T. Files Remix] (GBAHT0200578)
{TEASER} Majistrate – Work For Nothing (SWEET007)
Jayline – Too Jazzy (SBA007LP)
{TEASER} Sub Zero – It's (Dubplate)
Loadstar – Flight (RAMM130)
Original Sin & Taxman – Seen (RPG031P)
{TEASER} Supreme Being & Sub Zero – Marching Powder V.I.P. (Dubplate)
David Boomah – We're One [Original Mix] (PLVLP005)
Decimal Bass – All In (Original Mix) (MHERTZDIG010)
Noisia & Ed Rush & Optical – Brain Bucket (VSN009)
Fourward – Mudlark (APORN029)
Majistrate – Hibernate (LDDRLP002)
Annix – War Dub V.I.P. (Free Tune)
Un-Cut Feat. Future Cut & Jenna G – Midnight [Marcus Intalex & S.T. Files Remix] (GBAHT0200578)
Andrezz – Like The Real Thing (LV032DD)
Dave Owen – Less Is More Feat. Dorsh (Dubplate)
Wilkinson – Take You Higher (RAMM128)
{TEASER} Original Sin – Superman (Dubplate)
DJ Pleasure – Jack Russell (LDDRLP002)
Serum – Bad News (COLAB027D)
{TEASER} Supreme Being & Sub Zero – Bangers (Dubplate)
DJ Fresh – Heavy Weight (SBOY022)
DJ Zinc – Ska Remix (PLAYAZDIGITAL005)
Tyke – Buzzards (GRIDUK054)
Killahurt (Original Sin) – Trinity (Dubplate)
{TEASER} Cabbie – O Tones (Dubplate)
Serum & Coda – Witchcraft (Dubplate)
{TEASER} DJ Guv – Bumbahole (DUBZAUDIO001)
Annix – Ghetto Blaster (RADIUSLP001)
{TEASER} Majistrate & Sub Zero – Mad (Dubplate)
Supreme Being – Shaolin Steel (Dubplate)
{TEASER} Ruffstuff – What's Up [Nu Elements Remix] (SEMTEX008)
DisGuise (Cabbie) – Find A Different Wee [2013 Mix] (Dubplate)
Rowney & Propz – Regulators (CALYPSOD004)
The Streets – Has It Come To This [High Contrast Remix] (NHS151DD1)
{TEASER} Shimon & Andy C – Body Rock (RAMM34)
Cabin Fever UK – Let's Go Feat. Nitri (GRIDUK057DD)
Sevin – Cookie Monster (Dubplate)
Serum & Northern Lights – Bad Boys [Serial Killaz Remix] (AW003)
{TEASER} TC – Do You Rock V.I.P. (Dubplate)
Jaydan – 1 Hour Photo (CALYPSOD004)
{TEASER} Dillinja – Shiners (VLV027)
Heist – Crunchy Nut Bass (LDR029)
{TEASER} Dirty Harry (DJ Hazard) – Skankers (FRONT093)
DJ Pleasure & Origin – Dog Arted (UND017)
{TEASER} Original Sin – Figure 8 Bass (PLAYAZDIGITAL005)
Nu:Logic – St Pauls (NHS231DDS)
{TEASER} Moving Fusion – Turbulence (RAMMSIM001)
Jonny L – Back To Your Roots [DJ Friction & K-Tee Remix] (SHA013)
{TEASER} Roni Size – Snapshot (FCY020)
Sub Zero – Run N Hide [Konichi Roller Remix #2] (PLAYAZ036)
Tantrum Desire – Higher (WAR030)
{TEASER} Supreme Being – Got Milk V.I.P. (Dubplate)
DJ Construct – Raiden (Dubplate)
TC – War Game (Dubplate)
{TEASER} Heist – Sacrifice (CALYPSOD004)
Hudson Mohawke – Reaching [173 Mix] (Dubplate)
Dream McLean – Network [Chase & Status Remix] (MTAREC014)
DJ Fresh – Gold Dust [TC Remix] (MOS252EP)
Supreme Being – Trapped (Dubplate)
DJ Dose & Persist – T.O.S. (Dubplate)
TC – Get Down Low (Dubplate)
Original Sin – Overfiend V.I.P. (Dubplate)
{TEASER} Zen – Rhubarb 'N' Custard [Zen 2012 Remix] (Free Tune)
{TEASER} Decimal Bass – Foundation V.I.P. (Free Tune)
{TEASER} Sub Zero – Spin Doc 2011 [This One Mix] (Free Tune)
DJ Construct Links